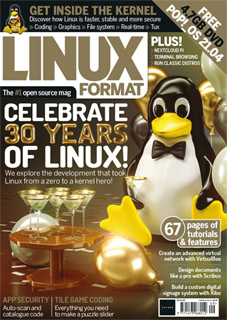 The Linux kernel is 30-years old, come celebrate with us as we explore how it went from the bedroom project of a young Finnish university student to running the world! We take you through the early development, how distros evolved and so much more!
PLUS: we review the key distros of our time, run classic distros via Qemu, build a Raspberry Pi Nextcloud server, get to grips with Scribus, use Midnight Commander, build an information kiosk, Roundup terminal browsers and loads more!
Write in now, we want to hear from you! lxf.letters@futurenet.com Send your problems and solutions to: lxf.answers@futurenet.com Catch all the FOSS news at our evil Facebook page or follow us on the Twitters.